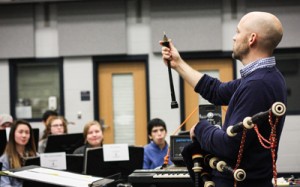 If you have ever wanted to learn how to play the bagpipes, then there is no better time to get started than today. Students as young as 10 years old can begin learning the pipes, and Matt has successfully taught folks into their late 70s.
Matt Willis teaches in Carrollton, TX, a major suburb just north of Dallas, and is always happy to start new students on the pipes. Matt Willis has had great success training more than a hundred pipers throughout the state of Texas. Matt has been teaching the pipes since 2001.
To begin learning the pipes you do not need a set of bagpipes. All you will need is a practice chanter, a recorder-like instrument. The practice chanter is used to learn the embellishments and fingering of the pipes before graduating to a full set of pipes. Even advanced pipers use practice chanters to learn new tunes and practice old ones. Matt carries practice chanters, so there is no need to purchase one before beginning lessons.
Matt has created his own piping curriculum and is in the process of writing the Highland Bagpipe Learning System, a complete method for learning the pipes. This method will quickly get you off the practice chanter and onto the full pipes, while you are learning real pipe tunes that all pipers should know. Matt already published the first book in the series, The Basic Tune Book, a collection of traditional pipe tunes that features the classic melodies every piper wants to know, such as "Amazing Grace" and "Scotland the Brave."
For more details on bagpipe lessons, please call Matt at 972-657-0318 or send Matt an email.
Click here for a calendar of Matt Willis' availability. Note, this is not an interactive calendar, it simply shows when a student's lesson is scheduled and Matt's current openings.