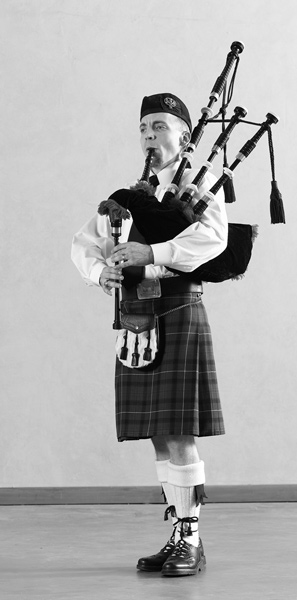 How would you like to incorporate the Great Highland Bagpipes into your life? Whether you want to learn how to play the pipes yourself, or if you'd like to have the pipes featured at a wedding, party, or memorial, Matt is happy help you reach your goals.
About Matt
Matt began playing the pipes as a young man in 1996, and joined the Silver Thistle Pipes & Drums in Austin, Texas in 2000. With that band, he competed in 2001 at the World Pipe Band Championships in Glasgow, Scotland.
For twelve years, Matt was the piper for The Killdares, a nationally acclaimed Celtic rock band, and currently plays pipes, flute, and whistles with Rathmore, Dallas's newest Celtic rock band. Matt has recorded with a number of other artists and organizations as well, including Floramay Holliday, and Heather McCready.
Matt composes original pipe melodies and harmony to classic pipe tunes. He has authored tune books & CD combos titled Tunes, Chords & Harmony Volume ONE and Volume TWO: Christmas Edition, available on Amazon. He also has these tunes available at his online pipe tune store.
Matt also serves as the Pipe Major of the Metroplex United Pipe Band. In 2016 under his leadership, Metroplex United earned first place at both the Tulsa ScotFest and the Arkansas Scottish Festival in Grade 5. In September 2017, Matt Willis was chosen by the renowned bagpipe maker R.G. Hardie & Co. to be a featured artist.
Matt is also producing regular bagpipe content on YouTube from instructional content to original tunes as well as bagpipe product reviews and unboxings. Over 200 videos are currently available.
Call him today to discuss beginning as a bagpipe student or to design your perfect event with Scottish flair.