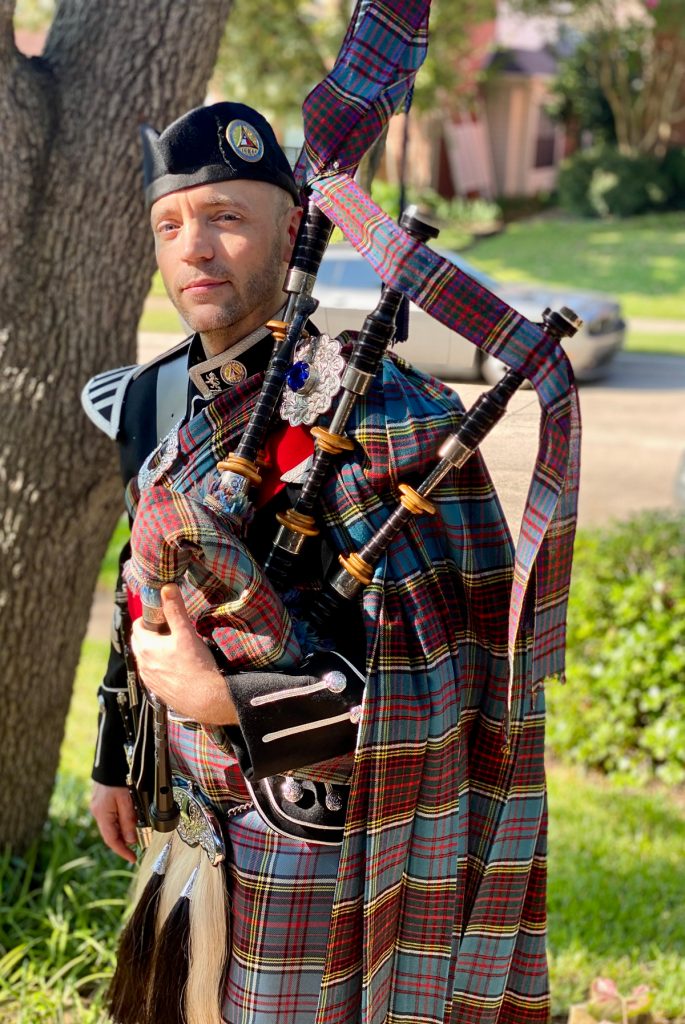 How would you like to incorporate the Great Highland Bagpipes into your life? Whether you want to learn how to play the pipes yourself, or if you'd like to have the pipes featured at a wedding, party, or memorial, Matt is happy help you reach your goals.
About Matt
With his popular bagpipe-focused YouTube channel, Matt Willis Bagpiper has helped thousands of aspiring pipers improve their playing and technique though his "Command Your Bagpipe" and "Basics" series of video tutorials. His channel also offers bagpipe products reviews and new and original bagpipe tunes.
Matt began playing in 1996 and joined the Silver Thistle Pipes & Drums in Austin, Texas in 2000. He has competed with Silver Thistle throughout the US and at the World Pipe Band Championships in Glasgow, Scotland in 2001. Matt now serves as founder and pipe major of Dallas-based Metroplex United Pipe Band.
From 2004 until their retirement in 2016, Matt was the piper for Celtic rock band The Killdares. Since 2017, he has performed with Rathmore, a Denton-based Celtic rock band. He has also authored the tune books Tunes, Chords & Harmony Volume ONE and Volume TWO: Christmas Edition (available on Amazon), featuring both re-arranged classic tunes as well as new compositions. He also has these tunes available at his online pipe tune store.
Matt has been teaching the pipes since 2001 and instructed at the "Keeping Tradition Alive" bagpipe symposium in Lewisville, Texas in 2018 and 2019. He has worked with police and fire department bands since 2004, instructing new players and helping more experienced pipers become leaders in their organizations.
Text Matt at 972-657-0318 or email him today to discuss beginning as a bagpipe student or to design your perfect event with Scottish flair.